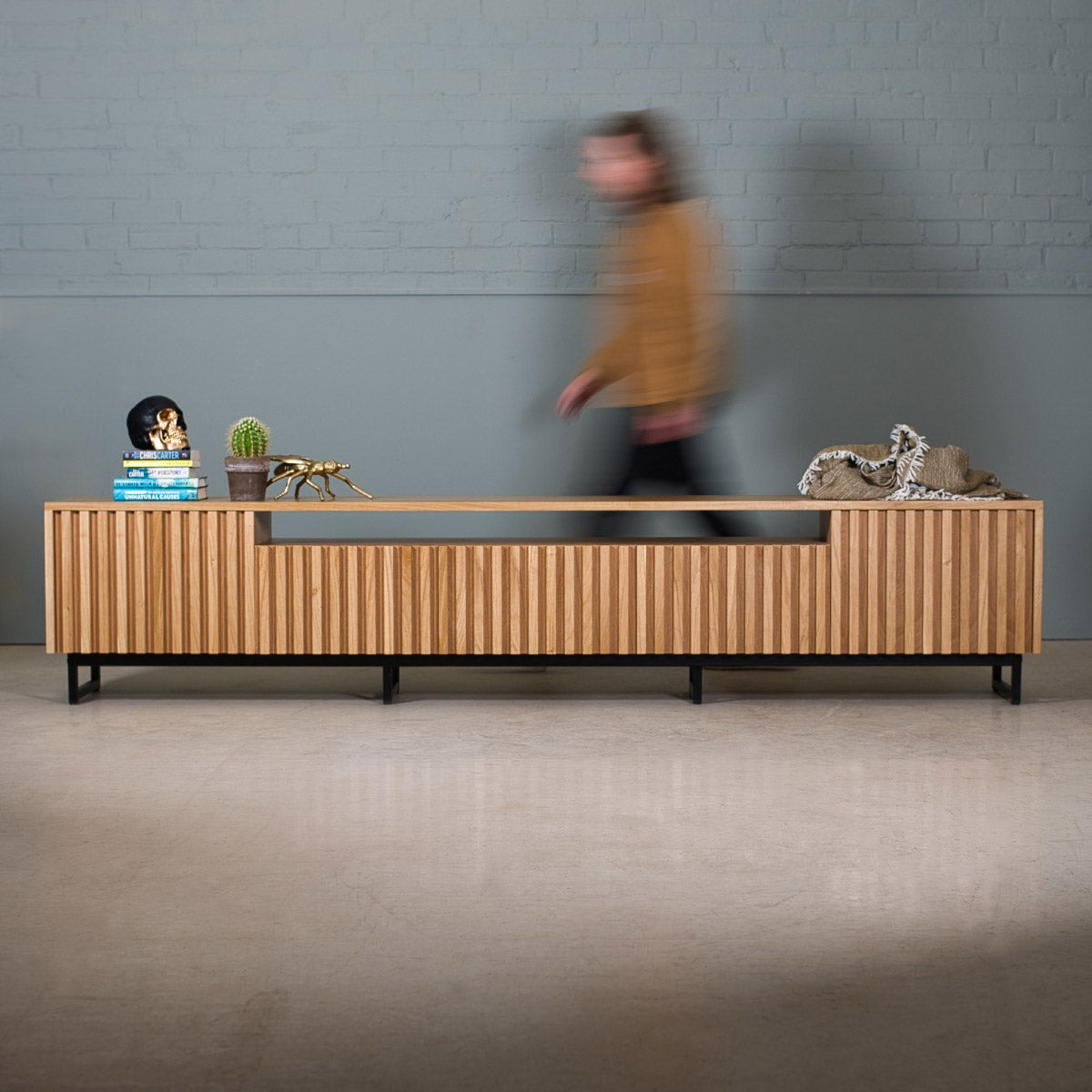 Trend Alert: Fluted Detailing
Fluted wood details that will inspire how you furnish your home
Every year, our passionate team of designers and creatives carefully anticipate the newest designs in
furniture
and
lighting
and accessories that will revolutionise how we transform each space into a personal haven. Read on as we reveal the most talked about interior trend worth investing in.
Interior design is a timeless art, carefully constructing harmony between architectural elements through the use of colour, texture and light. Now, fluting has emerged as an exciting new way to add depth and richness to spaces: evoking history while simultaneously paving the path for modern trends in interior design.
Why has fluted wood become such an on trend must have?
Fluted detailing traces back to ancient woodworking practices and was popularised in the classical period. Known to promote the interplay of shadow and light, fluted columns dominated ancient Greek and Roman architecture. Later, this style was embraced again within Art Deco design culture; entering both interior décor aesthetics as well as decorative art forms across many disciplines.
We're thrilled to be able to incorporate this on-trend revival of fluting into our interior design and
custom handmade furniture
projects. This dynamic style can breathe new life into any material, from wood and stone to plaster and glass. Let's add some flair with this classic technique today.
Fluted detailing is having a major moment in interior design
Our homes are becoming more than just a place to live - they are places of truly inspired living. No matter the look you're going for when decorating your home, adding an extra layer of interest and texture is essential! To give furniture, walls or doors a truly stylish finish, consider incorporating fluted details to enhance their elegant appeal.
What is fluted detailing?
The fluted details of a surface can give it the unique dimension and interest that are visible from afar. But when you get up close to them, they offer something else entirely - an inviting tactile sensation different than just smoothness alone. An architectural detail that adds that extra interest without being too over the top.
Fluting is a versatile and varied architectural detail, often referred to as reeded, ribbed or grooved. It can be applied in an innumerable range of creative ways to add aesthetic beauty and structural stability. Fluted detailing offers interiors an exciting and creative way to add more visual interest and individualised charm. The flexibility of this design element makes it suitable for use as a design detail for furniture or an architectural room divider – perfect both aesthetically and practically.
Fluted detailing is the perfect way to add interest and texture to any interior space in your home, no matter what style you're going for. Whether it's a modern loft or a traditional farmhouse, this fine detail can bring an elegant touch of luxury and sophistication to your furniture, walls or doors. It's time to embrace this trend and add a touch of timelessness to your home – now that's something worth investing in.
1. Fluted Display Cabinet
Katherine, our creative director, is a firm believer that texture has the power to transform any space. She steers clear of fleeting trends, striving instead for timeless elegance for all her designs, through natural elements and subtle details like fluting which she's sure will remain popular far into the future.

KODA puts a modern twist on a timeless design with this mid-century-inspired fluted oak display cabinet. Solidly constructed from oak and glass, the unique and intricate pattern creates an eye-catching optical illusion of transparency, allowing light to playfully dance through its shadows. An ideal piece for adding sophistication to any home.

Combining elegant style and superior storage with display options, this solid oak furniture piece brings an exquisite touch to any space. Perfectly fitting into contemporary or traditional interiors, it's guaranteed to upgrade your living room, hallway, or dining area.
2. Fluted Room Divider
Open-plan living can make a stunning statement in any space, yet sometimes it's preferable to have certain areas delineated. Room dividers are a fantastic solution; they provide privacy and style without sacrificing too much floor estate - especially useful for smaller spaces! For an even more impactful effect, opt for the fluted slat divider that reaches across this ceiling: add texture and definition with ease.
The solid oak wooden slat divider perfectly defines the dining area, offering a stylish balance of light and ventilation while providing adequate coverage. Its vertical design brings an exquisite architectural allure to this sophisticated space. The bench in the dining room continues the fluted architectural slat detailing and provides extra storage.
We love how elegant this dining area looks – the fluted detailing acts like an eye-catching statement feature. It's sure to add a unique touch of charm to any interior space, regardless of size or design style. Fluting is a timeless idea that will never go out of fashion.
3. Fluted Oak Media Unit
At KODA, we understand the unique needs of every living space. Our
fluted oak cabinet
is your perfect partner in creating a customised furniture masterpiece – design yours with any combination of size and timber species to suit you! Need help to visualise? We've got it covered with our CAD drawings - just get in touch today to transform your vision into reality.
This oak media unit was a bespoke design request made from our standard fluted sideboard collection. Crafted from solid fluted oak, this one-of-a-kind media unit offers a stylish solution for housing your soundbar and other audio equipment. Its bespoke furniture design ensures that the fluted detailed aesthetic won't be interrupted. Subtle yet eye-catching detailing ensures you can enjoy great looking design without compromising on functionality.
4. Fluted Wood Wall Panelling
Experience a stunning and dynamic hallway with a wood slat accent wall as its focal point. The clean lines of the furniture and lighting highlight the wood panelling, creating a cosy yet contemporary feel. Let your eyes be drawn down into the rest of the house from this breathtaking entrance.
The fluted wood wall panelling is made from solid oak, which gives it a modern and refined finish. The subtle texture of the slatted panelling adds contrast to the room without detracting from its overall style. The combination of wooden walls with solid oak flooring and furniture creates a warm ambience, perfect for welcoming guests into your home.
5. Fluted Oak Shelving Unit
The
Frame shelving unit
is a timeless piece of solid oak furniture that boasts an eye-catching design aesthetic. Drawing inspiration from industrial shelves, this shelving unit features fluted panels as door details to provide dramatic flair with its vertical patterning - ideal for seamlessly hiding any joins or doors.
Manufactured from solid locally sourced English oak and powder-coated steel, materiality takes centre stage. The natural tactility of the decorative storage doors adds a bold design aesthetic without adding an obvious pattern or ornamentation which could date quickly.
6. Fluted and Reeded Glass Textures
Fluted glass has become a highly sought-after design accent and for good reason. Its distinctive texture adds an undeniable touch of elegance to any space- really any space! It's no wonder it has been grabbing the spotlight lately.
Spruce up your kitchen cabinets with fluted and reeded glass that adds texture and a hint of discretion - so you don't have to worry about any clutter. Fluted glass panels are the perfect solution for organised yet stylish storage.
The fluted glass cabinets we made for a local coffee and wine house is a truly remarkable design. The large panes of the glass are softened by the texture of fluting, making a subtle yet striking statement. Fluted furniture and design elements have been around for centuries - and they aren't going anywhere anytime soon. Their timelessness ensures that your home will never go out of style no matter what era you're in. Whether it's for a classic, minimalistic, or contemporary setting - fluting is always here to stay!
7. Fluted Bathroom Vanity
Transform your bathroom into a stylish statement piece with a fluted design feature. Not only does this detail add visual intrigue and texture, but the vertical pattern also cleverly conceals drawers for maximum effect. A simple change to make an impressive difference - get the fashionable look you've been dreaming of.
The classic fluted design ensures the vanity blends seamlessly with existing fixtures and fittings for a timeless finish. The understated modernity of the piece is further enhanced by the sleek lines, subtle curves, and slightly raised edges. With the matte black finish to complement the furniture's overall aesthetic, this vanity is sure to become your bathroom's focal point.
Summary
Fluted designs have been around for centuries and we are pleased to say that this design detail is not going anywhere anytime soon. This timeless look has become increasingly popular as an architectural accent in both modern and traditional homes alike. Whether it's used on furniture pieces such as room dividers, kitchen cabinets with reeded glass panels, or vanity units - fluted detailing brings a unique touch of charm to any interior space regardless of size or design style. Not only does this detail add visual intrigue and texture but also cleverly conceals additional storage with maximum effect - making it the perfect solution for organised yet stylish storage solutions. So if you're looking to add a touch of elegance to your home then consider adding some beautiful fluting today.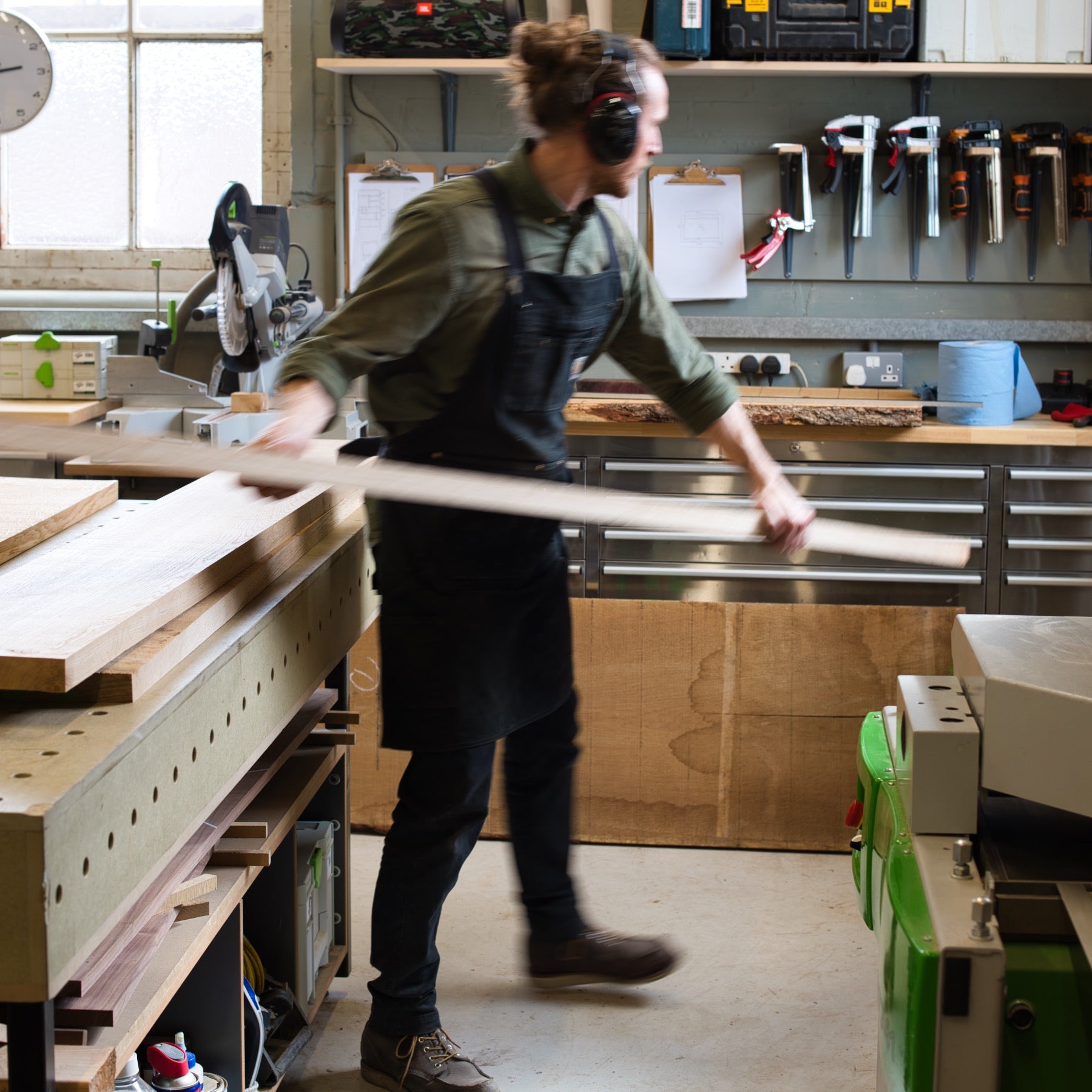 Choosing the right dining table is more than just an aesthetic choice – it's a decision that can impact the functionality and flow of your living space, your daily comfort, and even your social int...
Read more