Article: How to Choose a Dining Table
How to Choose a Dining Table
Choosing the right dining table is more than just an aesthetic choice – it's a decision that can impact the functionality and flow of your living space, your daily comfort, and even your social interactions. The dining table is not only a place to eat meals, but also a gathering spot for family discussions, a homework station, a remote work area, and a hub for entertaining friends. With so many important roles, selecting the right dining table requires careful consideration of various factors like space, size, shape, material, style, and budget.
Discover the key to choosing the perfect dining table for your home. Our definitive guide eliminates confusion and simplifies the process, so you can create the heart of your home with ease. Join us as we unveil the secrets to finding your ideal dining table, where memories are made and connections are cherished.
Understanding Space and Size
Finding the perfect dining table involves more than just style and design. It is crucial to consider the space it will occupy, as the wrong size table can create an impractical and cramped atmosphere or appear misplaced in a larger dining room. To ensure you make the most of your space, here is a guide on how to accurately measure your space for a table that will fit perfectly.
Prepare your space and measure for your new dining table.
Consider doorways, dining chairs, and architectural features.
Leave at least 80cm of clearance around the table for seating and easy movement.
Before finding your dream dining table, it is essential to ensure that it can easily fit through doorways and hallways. Once you have calculated the amount of space you have available, you can proceed to find the perfect dining table for your desired room.
When selecting a table size, it is important to balance your dining space with the overall aesthetic of your room. A small and rectangular table may look great in a smaller living area, whereas an oval-shaped or round one can help maximise seating capacity in a larger room. When deciding on the right size and shape for your dining table, it is wise to opt for a slightly larger design than you initially imagined, as it can help create a more inviting atmosphere.
Choosing the Right Shape
When selecting the shape of your dining table, consider how many people need to be seated and what type of conversations or activities will take place around it. Different shapes have their own unique qualities which make them suitable for different scenarios. Round and oval tables are perfect for intimate conversations, whereas rectangular or square tables provide plenty of room for larger groups to sit comfortably.
Rectangular Dining Tables
Rectangular dining tables are one of the most common types and provide a reliable seating solution. These tables are typically wider than they are long, creating enough room for guests to dine comfortably. They also pair well with a variety of room shapes and sizes, making them a great choice for both small and large spaces alike. Upgrade your dining room with a rectangular table that will be the focal point of the room. Expertly crafted from premium materials like solid walnut or English oak, the piece will sure to make a striking statement. Smaller rooms can be maximised by utilising the space-saving design of a rectangular dining table - simply push it against the wall and still have ample seating. Embrace the enduring charm and flexibility of rectangular dining tables.
Oval or Round Dining Tables
Round dining tables are a timeless choice, providing an intimate setting for close conversations. The round shape prevents anyone from feeling left out of the conversation and is great for smaller spaces as there are no sharp corners or edges to worry about. However, when it comes to round dining tables, size matters. The diameter, or distance from one edge of the circle to the opposite side, determines how many people can comfortably sit at the table. The larger the diameter, the more guests you can accommodate. To maximise the aesthetic appeal and functionality of your space, we recommend placing circular dining tables in the centre of square rooms. If you have a more rectangular space, an oval dining table would be more beneficial and will enhance the architecture of your room.
Live Edge or Waney Edge Dining Tables
Live edge or waney edge dining tables offer a unique and natural aesthetic. These tables are handmade from natural materials, usually locally sourced English oak, where the edges of the table are left in their most natural state – showcasing the beauty of nature. Live edge designs create a warm atmosphere that is perfect for relaxed family gatherings or special occasions with friends. Due to the inherent nature of the wood shape and grain, each live edge dining table will be unique to the next. Waney edge dining tables are sure to be the centrepiece and will be the focal point to any room.
What is the best material for a dining table?
Choosing the perfect dining table involves considering various factors, including materials. While personal style and preferences are essential, functionality should not be overlooked. Delve into the details of the most popular materials to make an informed decision.
Walnut Dining Tables
Investing in a dark hardwood walnut dining table may require a higher upfront cost, but its enduring quality ensures it will stand the test of time. The beauty lies in its ability to be revitalised through sanding and refinishing, allowing it to gracefully adapt to changing trends. Embrace its versatility and bring style to your dining space with confidence. Dark wood tables are suitable for both traditional and modern homes, giving your room a timeless aesthetic.
Oak Dining Tables
Invest in a timeless oak dining table for long-lasting elegance and functionality. Oak's durability ensures it will remain in great condition for decades to come, making it the perfect choice for regular use and hosting countless meals. Should the need arise, you can easily refresh the surface of your oak table top by re-sanding it. Whether your preference leans towards modern or traditional, there is an oak dining table style to suit your personal taste. Don't settle for anything less than the enduring beauty and versatility of a solid oak dining table.
What style of table should I choose?
When selecting a style for your dining table, consider the existing decor in your home. If you prefer a more traditional look, opt for a classic design with clean lines and subtle details like carved legs or an ornate pedestal base. Contemporary styles are obviously more modern and contemporary, featuring elegant joinery and shapes. Here are some of the most popular dining table styles.
Traditional
Are you seeking a dining table that complements your home's classical architectural features? Look no further than a traditional dining table. With timeless silhouettes, these tables offer a perfect blend of classic design and modern functionality. Choose from a variety of options that will suit your lifestyle and keep your home true to its roots.
Modern
When it comes to selecting a modern dining table, prioritise clean lines and a minimalist design. Don't be fooled into thinking that just because a table is modern, it's destined to become outdated in a matter of years. While styles may come and go, a modern dining table made with high-quality materials and expert craftsmanship will stand the test of time. Make a wise choice and your modern dining table will be treasured for a lifetime.
Rustic
Enhance the character of your home with a rustic dining table that complements any kitchen or living space. Let the natural beauty of the waney edge oak table develop a distinct and charming patina over time. And when the wood needs a little sprucing up after a decade, simply sand it down and refinish it effortlessly.
Industrial
Enhance the dining room with the timeless aesthetic of an industrial dining table. No longer limited to New York lofts, these tables are now a stylish addition to modern homes and traditional spaces alike. For a truly distinctive touch, opt for a solid wood table top, infusing your space with character and sophistication. If you prefer a refined industrial vibe, pair it with a powder-coated metal base. Elevate your dining experience with the allure of industrial design.
Want to Design Your Own Dining Table?
Wanting to turn your furniture visions into a reality? Experience the luxury of a bespoke dining table, tailored to your precise specifications. Whether you prefer the classic beauty of solid oak or walnut, or a modern table with a refined industrial finish, our skilled team can turn your vision into a reality.
We will be there to help you every step of the way. Whether you prefer browsing through our existing collection or want a custom-made table, we have the expertise and skills to bring your ideas to life. Your satisfaction is our top priority, and we are committed to delivering a final product that exceeds your expectations.
Do you have an idea for a bespoke piece of furniture?
Contact us, we would love to hear from you.
Conclusion
Discover the countless ways to elevate your space with a new dining table. Unleash your creativity by exploring the diverse range of dining table options available. From traditional and modern to rustic and industrial, there is sure to be a style that resonates with your personal taste. Make the right choice for your home today – you won't regret it! With proper care and maintenance, your dining table will not only look great but will also stand the test of time. Invest in quality craftsmanship and enjoy this essential piece of furniture for years to come.
Selecting the perfect dining table for your home is not an easy task. With so many styles, sizes, and materials to choose from, it is essential to consider all of your options before making the final decision. Take into account factors such as functionality, aesthetics, budget, and desired look when shopping for a new dining table. Ultimately, investing in quality materials and craftsmanship is key to making a purchase that you won't regret. With the right dining table, your meal times are sure to be filled with laughter and joy!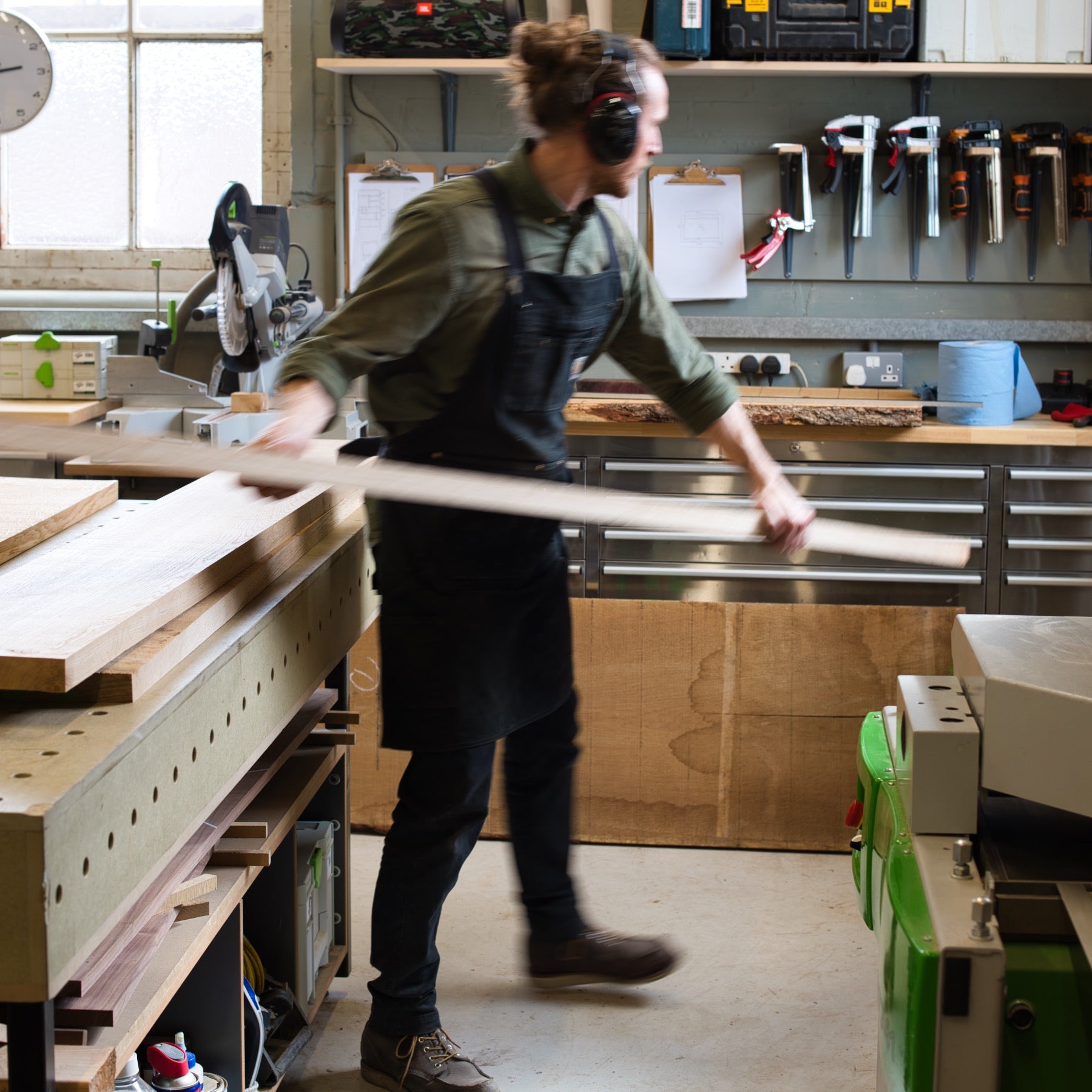 Choosing the right dining table is more than just an aesthetic choice – it's a decision that can impact the functionality and flow of your living space, your daily comfort, and even your social int...
Read more